You'll learn Freehand Drawing as one of the Drawing Tutorials offered here.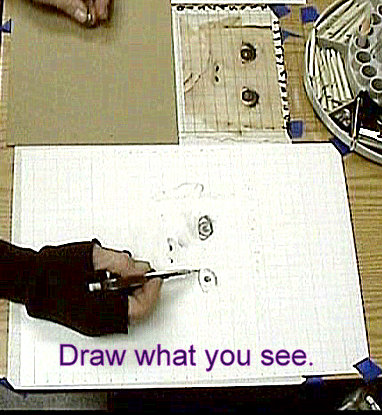 This Drawing Tutorials section will include...
...just to name a few.
I'll assume that you've browsed around and have the drawing supplies you need.
If so, then...
Let's go over the drawing tutorials.
---
Free-handing

This technique is akin to the Freestyle method in that there are no drawing aids used.
The difference between the two is that you are drawing a specific subject...Freehanded.
For most of you this will be the most challenging of all the methods discussed here.
One piece of advice that I can give you is to never give up...no matter how bad you think you are.
Crying, cussing, and yelling are okay... just keep at it, every day if possible.
Here's the link to the Freehand Drawing Method page
---
The Grid Method
The grid method involves drawing a grid on your paper that corresponds to a grid that has been placed over a reference photo. By reproducing what you see inside each grid box, the result will be an accurate copy of the reference photo. You can also use the grid method to enlarge or reduce the size of your drawing.
Here's the link to the Grid Method page
---
Creating an Outline
This  lesson will show you how to use your grid to create an accurate outline. I truly believe that when an accurate outline is drawn first, the creation of a beautiful image is so much easier.
If you're ready to Create an Outline then here's the link
---
Freestyle Drawing
Freestyle is drawing anything, in any manner, with any medium you choose. It's the best way to truly express yourself without worrying at all about how it looks.
Use the freestyle technique to work out those drawing muscles.
Free-styling requires no instructions. I think of it as advanced doodling.
Anyone can do it...kids freestyle draw all the time.
I've decided to not even dedicate a tutorial to this method as it a way to just "let go" and enjoy the ride.
---
Value Drawing
You'll want to make your drawings pop out at you when you look at them.
To do this you'll need to become skilled at seeing and reproducing the changes in values.
This tutorial gives you the steps to shading a sphere using a five-value scale.
Here's the link to the Value Drawing Tutorial page
---
Blending/Shading
Blending and shading graphite can be done with a wide variety of blending tools, or can be achieved with skillfully applied pencil strokes. There are many artists who use a combination of these techniques.
Learn about the different ways to create the illusion of three-dimensions to your artwork.
Follow this link to the Blending/Shading tutorial.
That's all for now. I'll add more tutorials as time goes on. In the meantime, if you need additional help, or if these tutorials didn't cover something you specifically needed, then let me know and I will do my best to help you out.

---
Home
&gt Drawing Tutorials
---
Subscribe to my Newsletter

---