Learn About Me and my Journey into the Art of Drawing.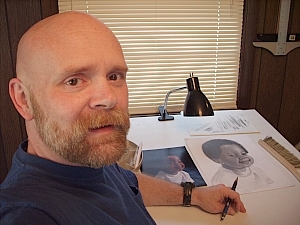 Hi,
My name is Jeff...what about me? I'm the guy behind the website.
When I go to some websites I like to check-out the About Me/Us page.
So...because some of you do the same thing, I thought that I would put together this page for you.
I've lived in Yee-Haa...Wichita for about 45 years.
I graduated from Friends University with a B.S.Ed. degree, and have been a teacher pretty much ever since.
While attending college I decided to take a course on painting. It was then that I discovered that I had the ability to see colors, values and tones, and translate what I saw onto the canvas.
Not to brag, but the other students would have sworn that I had been painting for years.
Later, I took some classes from a local artist who was an established portraitist.
I continued honing my skills, and eventually got some commissioned work.
I really love the way oils move on the canvas, and how the right mix of colors can create wondrous beauty.
However, I found that oils took a lot of time to prepare and clean-up.
Additionally, after moving to a new home, I no longer have the space that is necessary when working in oils.
I happened upon a book on pencil drawing and decided to give graphite drawing a try.
Once again I found that I had some hidden talent, and have been doing portraits in pencil for about 10 years now.
I'm not a "professional", but it seems as though I am always working on a commission for someone.
After doing a great deal of research on website hosts, I found one that would not only host a site, but train me on the best way to build and optimize it.
I chose to build a site that would show how easy it is to draw when using the correct techniques.
A website should always be evolving, so I don't think that I will ever be able to proclaim my site as finished. I think that I will be working on it till the end.
---
---
Subscribe to my Newsletter

---