Do You want Richer Blacks in your Drawings? Add Carbon Pencils to Your Drawing Tools.
---
Do you need more versatility?
Add some carbon pencils to your art supplies and produce rich dark tones to the shadows in your work.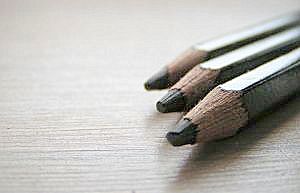 Graphite pencils are great for a majority of the work you'll do on a drawing. However, there will be times when you will need to produce a richer, darker black. That's when carbon pencils come in to play.
Take one of your softest grade pencils and try to create the blackest tone you can. Odds are that you'll have to rub long and hard to even get close to a satisfying deep black value.
What you will end up with is a smooth, shiny, patch of dark gray tone. At least that's what
I generally end up with.
Carbons are sort of in-between graphite and charcoal pencils in softness. They are softer than graphite, and harder than charcoal.
Because carbons are softer than graphite, you'll need to be careful when sharpening them.
Carbons come in various degrees of hardness that are similar to standard graphite pencils:
B (hardest)
2B,
4B,
6B (softest)
I was turned on to carbons while browsing on a web site. The artist commented on how he used them to supplement his graphite drawings. He described how he produced a darker, more satisfying black when using them.
Well, coincidentally, I too was unhappy about how hard it was to get nice black tones to my drawings. The best I could do was to produce nice glossy grays.
As mentioned earlier, you'll have to be somewhat careful when sharpening these pencils. With practice you'll develop a technique that works for you.
You could use the carbon for a complete drawing, or use it to darken an area of your drawing where a regular graphite lead wouldn't work as well.
---
Home> Drawing Supplies> Drawing Pencils> Carbon Pencils
---
Subscribe to my Newsletter

---