A good pencil sharpener is a must unless you like grinding expensive drawing pencils down to a nub.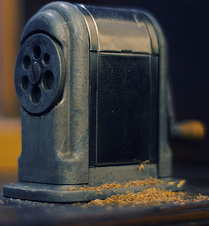 You didn't buy a good, heavy duty pencil sharpener...and now you have a lovely set of three-inch charcoal pencils.
You just dropped down a hefty sum of money for a "primo" set of artist-grade drawing pencils.
You mistakenly decide that your hands are steady enough, you'll just use that old manual sharpener that's been buried at the back of your desk drawer since when Nixon was in office.
It doesn't take you long before you realize your mistake.
Ten minutes later your making a trip to the nearest office supply store in search for a decent sharpener.
Oh well, you could always glue the pencil stubs to a piece of board and make a really pretty collage.
Don't let it happen to you!
---
A sharp pencil is necessary when drawing fine lines such as when working on...
hair/eyelashes
wrinkles
fur
feathers
Sharpeners come in several types
There are the non-mechanical sharpeners...
and three types of mechanical sharpeners.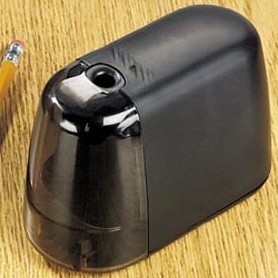 As a rule of thumb...the higher the cost, the better the quality of the sharpener.
I would not however, go running out to buy the most expensive heavy duty pencil sharpener there is on the market.
Do some research and decide which sharpener is the best for you.
Consider the type of pencils your using most of the time.
For example are you using a lot of charcoals, or are you using mostly colored pencils?
Other considerations are how much time do you plan to spend on drawing, and will you be making this a casual hobby, or a way to make some money?
I don't use a pencil sharpener for most of the graphite work I do since I use mechanical pencils for my drawings.
I do use a hand-held to sharpen my pencil-type eraser.
Another thing that I have noticed is that the less expensive pencils tend to break more often than premium pencils. I believe one reason for this is that the leads in "economy" pencils are sometimes centered incorrectly in the wood core of the pencil...thus causing the breakage problem.
The main types of pencils that you'll have breakage problems with are soft lead pencils such as, colored pencils,"B" grade graphites and charcoals.
Be aware that there are reports of electric sharpeners clogging up and becoming unusable when used to sharpen waxed-based colored pencils. One site suggests sharpening a graphite pencil every so often to clear-out the blades.
When choosing a hand-held, my recommendation is to buy the best you can afford. Practicing will make you better at using the hand-held.You may find that for your purposes it will be all you really need. You can always upgrade later.
---
---
Subscribe to my Newsletter

---